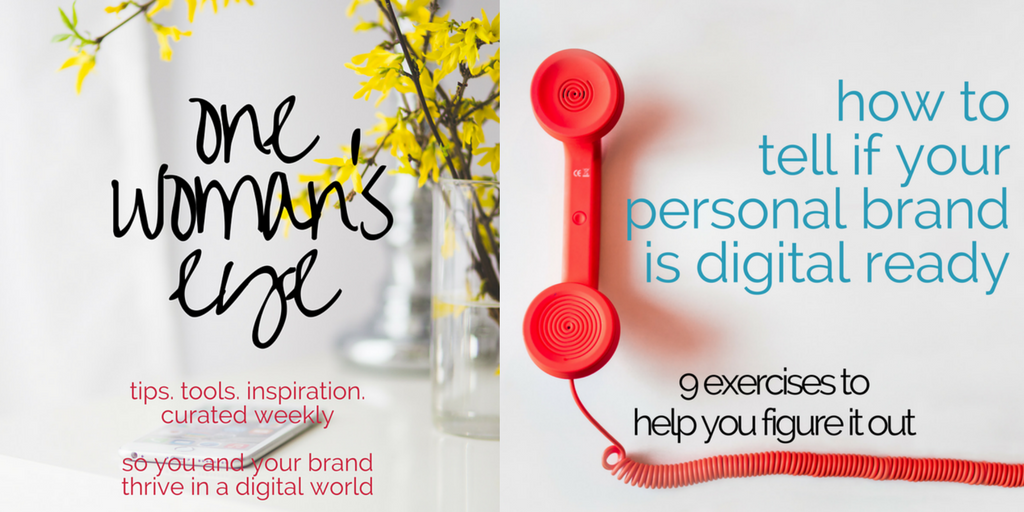 Here's what I've got for you that's free!
The One Woman's Eye Newsletter
This is a weekly curation of tips, tools and inspiration to help you and your brand thrive in an increasingly complex and changing digital world.
Thriving in a digital world means different things to different people.
√ For me it means figuring out how to use digital to enhance my life while never forsaking the human factor.
√ It means learning how to optimize digital tools and use social networks to grow my business and build my personal brand.
√ It means managing my online time so I have an offline life.
√ It means knowing when to turn it all off.
√ It means sharing what I know and what I learn.
Which is the point of the One Woman's Eye newsletter which arrives on Sunday mornings to your inbox and is 100% free if you subscribe here.
A note: One Woman's Eye was the original name of the blog that I started in 2008. I retired that name as my brand shifted. When I committed to a weekly newsletter last Fall I named it THRIVE. But after much thought and consideration, not to mention noticing an overuse of the word THRIVE, as of June 2016, I have decided to bring back the name One Woman's Eye and use it for my newsletter. The message and content remain the same. However, since this is a personal curation, I feel this more accurately describes what you will get.
How To Tell If Your Personal Brand Is Digital Ready
This e-book comes free with your subscription to the One Woman's Eye Newsletter. It includes 9 exercises for you to try to determine exactly how healthy your personal brand really is! You can get that here.
The Blog
I write about business and life in the age of digital. My topics range from tips on personal branding to how great brands think to why humans still rule.As always my intention is to make them relevant, useful, inspirational and sometimes entertaining. I strive for weekly posts. Sometimes that happens. Sometimes it doesn't.
If you want to be among the first that reads my pearls of wisdom you can sign up for the blog right here.
That's all that's free…for now!
To be continued,