---
What this is
Personalized advisement and accountability to build brands online
Who this is for
Entrepreneurs. Career Pivots. Authors. CEOs. Thought Leaders.
How this works
You'll work one-on-one with me each week for a minimum of 12 sessions.
You'll choose between 60-minutes or 30-minutes weekly.
We discuss your needs and vision for building your brand.
We create a strategy to bring that vision to fruition. 
We'll pick a time to talk each week based upon current availability and commit to it.
You'll get workbooks and homework to assist in the process.
What you get
private office hours with Joanne

60-minute or 30-minute weekly sessions on the phone or Zoom

personalized advisement to help you build your brand

your one-on-one sessions give you access to my knowledge and expertise in digital strategy, social media, content marketing, sales and personal branding

accountability to keep you laser-focused

this only works with your commitment to yourself and your brand

access to my Demystifying Digital Library

includes workbooks and resources to assist you in your process

a non-traditional approach

my past corporate experience working for giants including CBS and Time Warner combined with my years as a solopreneur offer my clients a unique perspective. I bring knowledge, expertise, a vast network and my intuition into every session.

a complimentary copy of Getting Your Story Straight

the most successful brands are crystal clear on what their story is. This workbook will get you started!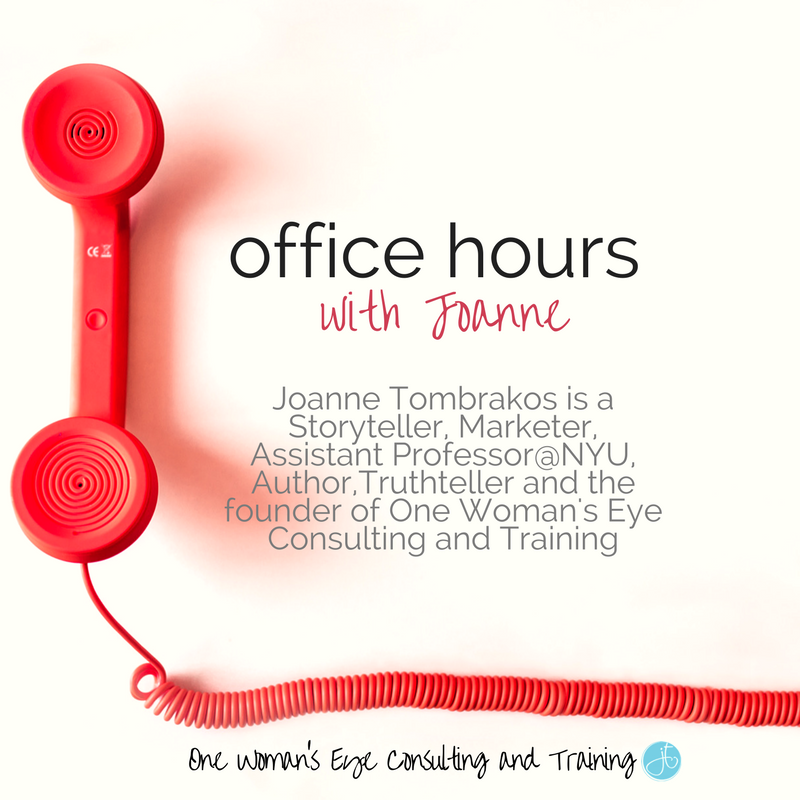 Great brands are not weekend warriors who are sporadic in their efforts. They hold themselves accountable and practice agility when they need to course correct. They are always learning.
If you're serious about building your brand - digital first - and ready and willing to invest in yourself, this is for you!