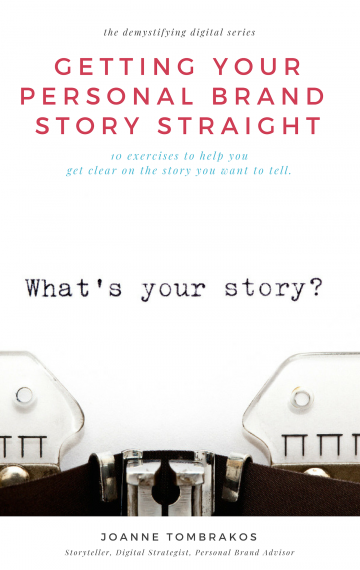 10 exercises
$19.97
Edition:

First edition

Available in:

PDF

Published:

May 24, 2017
Buy now
Getting clear on the story you want to tell is not an easy feat, but it is an essential part of any branding process – including personal branding. It requires some soul searching, a lot of introspection, hard work and asking tough questions like who are you, what do you do and why do you do it. But the payoff is huge! When you're crystal clear on the story you want to tell you're on the road to a successful personal brand.
My experience, both personally and from working with my clients is that this is where most of us trip up. The purpose of this workbook is to assist you in the process. I promise you it will not be easy. Some of these exercises may be more challenging than others. But if you're willing to invest your time in the work, at the end you will have the information you need to encapsulate your story in 160 characters – online and offline – and begin the process of owning it.
There are ten exercises in all. You may want to jump around and answer the easiest ones first. At times you may feel that you've already answered a question. That is done intentionally to help you really hone in on the essence of the story you want to tell for today's digital world.
In order to get where you want to go, in order to get clear on what we like to call our "personal brand," in order to present yourself in a way that is authentic to you – online and offline – the first thing you need to do is get your story straight.