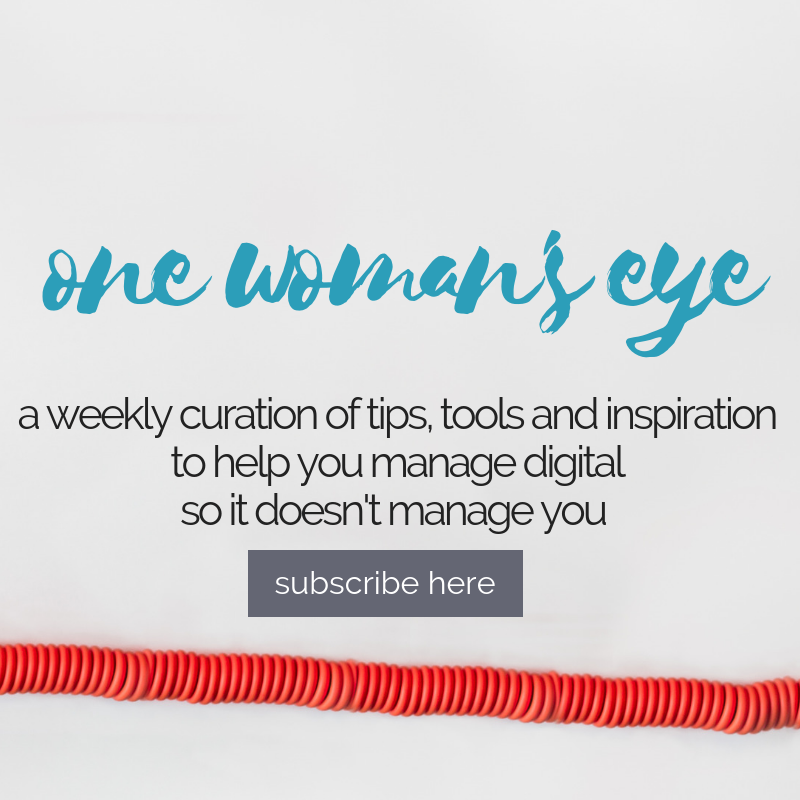 One Woman's Eye is a weekly curation of tips, tools and inspiration to help you manage digital so it doesn't manage you.
That means different things to different people.
√ For me it means figuring out how to use digital to enhance my life while never forsaking the human factor.
√ It means learning how to optimize digital tools and use social networks to grow my business and build my personal brand.
√ It means managing my online time so I have an offline life.
√ It means knowing when to turn it all off.
√ It means sharing what I know and what I learn.
Which is the point of the One Woman's Eye newsletter which arrives almost every Sunday morning to your inbox and is 100% free if you subscribe here.
A note: One Woman's Eye was the original name of the blog that I started in 2008. I retired that name for a while as my brand shifted and for a while I renamed I decide to call my blog turned newsletter, THRIVE. Not long after it seemed as if everywhere I went someone else was using the word thrive.
I hate to be like everyone else.
After much thought and reflection I wondered why I had ever tossed out a title that had served me so well and still accurately reflected both my message and content. What I share with my readers each week is a personal curation seen through one woman's eye, which happens to be my eye!
I hope to "see"  you Sunday!