From large corporations to entrepreneurs, the private sector to non-profits – I love the company I keep!
My experience, client list and the places my writing appears continues to grow!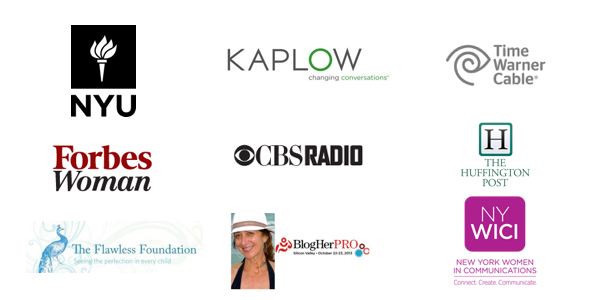 Here's what people are saying!
Joanne Tombrakos is an outstanding communicator. Able to balance the real world with social media, Joanne is one of the few people I've come across that can make thought leadership accessible to a wide audience. We have enjoyed having her speak at Kaplow and the response was outstanding. Joanne is not only a credible expert on social media, most importantly her insights spark ideas.- Liz Kaplow – President & CEO Kaplow , Former President, New York Women in Communications
Joanne's mastery of digital media is more relevant than ever. Her expertise in distilling complex data into clear, concise information provides a logical and highly effective marketing road map. -Joanne Sephine –Vice President, Creative Bionic Crayon Inc.
I write in gratitude for her workshop, YOUR DIGITAL YOU. It simultaneously demystified and prompted me to take part in a world that had, up until now daunted me. She is a catalyst for engagement. – Tara Dixon, Artist and Owner, Gratitude Designs by Tara Dixon, The Gratitude House
Joanne is an excellent facilitator, helping to move projects from conception to on-air. She is thorough while never losing sight of the bigger picture. – Bruce Angeli, Principal at Bruce Angeli, LLC.
She gives practical and concrete advice. – Elizabeth Barbaro, Educational Therapist
She has great insight into what makes people tick and is able to shine a light on how to create change and make it not seem so scary by breaking it down into manageable steps. – Amy Aho, Director, Deutsch Bank
Joanne came to our meeting full of ideas and achievable goals. – Suzi Banks Baum, Writer, Artist, Creator and Founder of Laundry Line Divine