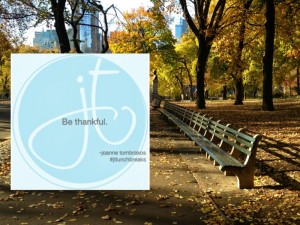 As far as holidays go, Thanksgiving ranks among my favorite. There's no pressure to buy gifts. No religious affiliation. No preparation besides the actual meal.

Thanksgiving is easy. It's about sitting around watching the Macy's Thanksgiving Day Parade, pretending football is of any importance and eating more food than you usually do – without guilt. Not that I usually sit around or watch football. But that's beside the point. The point of this holiday is about giving thanks.

It dates back to 1621 when the Plymouth colonists and the Wampanoag Indians shared an autumn harvest feast but it was not until 1863 in the midst of the Civil War that President Abraham Lincoln declared a national day of Thanksgiving to be held each November.

My point is that we shouldn't need the excuse of a holiday that comes but once a year to express our gratitude.  

It seems to me this should be an every day occurrence. We should listen to the wisdom of Deepak Chopra who advises that gratitude is the doorway to abundance. Or listen to Regena Thomashauer who will tell you unacknowledged good turns to shit.

We shouldn't need an excuse but apparently we do. 

We've gotten so conditioned to always look for what's missing that we forget to acknowledge what is sitting right in front of us from the big stuff like the generous pay raise to the little stuff – like holding the hand of someone we love.

We forget.

So we need the reminder. We need to force ourselves to sit still long enough, our bellies stuffed full of turkey, mashed potatoes and pecan pie and say Thank-You.

I am grateful.
For all I have been blessed with.

For my friends and my family
For the work I get to do
For wonderful clients
For fabulous students that keep me on my toes
For my readers
For this incredible city of New York I get to call my home
For the gift of waking this morning to a new day full of possibilities
For sunshine and blue skies
For rain pelting against my window pane

See – this is what happens when you take the time to be grateful. Once you get started it feels so good – it's hard to stop!
Gratitude does not need a holiday nor should it. But I am most grateful it has one.