I have this love/hate relationship with September. I always have. At my core I am a summer girl. Yes, I love autumn leaves and the first sign of a forsythia blooming in the spring.  A day spent skiing the Rockies after a fresh fallen snow will never fail to make me smile. But the summer is my season. And September's arrival says it's over. 


And then there is the other side of September that I do like. Fresh starts, clean blackboards, sharpened pencils and of course the excuse to buy new shoes.


There is a lot to love about September and a lot not to. 


September was the month my parents married. It was also the month my father died. Several of my nearest and dearest friends have birthdays that fall in September. And then there was that fateful Tuesday in 2001. 


You see where I am with this month. Vacillating between joyous anticipation and fear of the what ifs, now intensified with the news of new and credible terror threats.


I've reflected on this blog on September 11 before and perhaps I will every year. But this year it feels bigger. Maybe because it is ten full years. And so much has changed. Maybe because once again I am adding another item to the love September side and publishing my novel. 


I am torn. Between sadness in remembering and excitement for what's next.


My life was entirely different ten years ago. September 10, 2001 was the day I was officially promoted to Director of Sales for NY1 News. This was the job that was going to renew the love I had for my corporate life. And in the space of 24 hours the shine was gone. My new job seemed inconsequential as I walked the streets of a city coated in the ash of debris that was once the Twin Towers. I will never forget the eerie silence that set upon a city noted for its ability to never sleep as the souls of the thousands the tragedy took left this world. Nor the stories I read every day in the New York Times of the lives that were lost.


I cannot imagine what it was like to lose a husband or wife or child, a mother or father, but that did not exempt me from changing who I was and how I saw things. It was the beginning of a deep cellular shift in what I wanted my life to look like.


It did not take me long to become appalled as I witnessed how quickly the world forgot and our corporate dominated culture got back to what they considered the most important goal above all, making money at any cost. That brief moment of solidarity, of being joined together as a country seems in retrospect like a psychedelic drug experience.


I live my life with the belief that things happen with purpose. 9/11 tested me in that regard as did the death of my father in 1986. But how else to get past such a horror without looking for what good can be created in its aftermath? Tragedy does not befall to punish, but too often to wake us up and make us stop and look around. Sometimes we pay attention. Sometimes we go back to our old ways. 


I paid attention. I try and spend more time with the people I love. I take note on a daily basis of all I have to be grateful for. I look for what is right and not what is wrong. I empathize more. I choose more carefully who and what I let in my space. I am not as afraid to show my vulnerability. I am willing to go for my passion. I live all too aware of the fragility of time.


In the spring of 2002 I signed up for Sonia Pilcer's writing class at the West Side Y. I had said for years that I wanted writing to be my third career but until then had done very little about it. I can't say for sure I would have if not for the events of that previous September. As it happened it was in Sonia's class that my protagonist in The Secrets They Kept, Elena Poulous was born. 


So yes, I love September and I hate it. It is full of memories for me both painful and wonderful and all life defining. In all respects it is a pivotal month. In 1986 my life became defined as before and after my father died. In 2001 all of our lives became before and after 9/11. And now in 2011, for me it will be before and after The Secrets They Kept was published.


How has your life changed since September 11?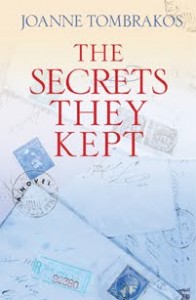 The Secrets They Kept is available in print and e-versions at on-line retailers everywhere.