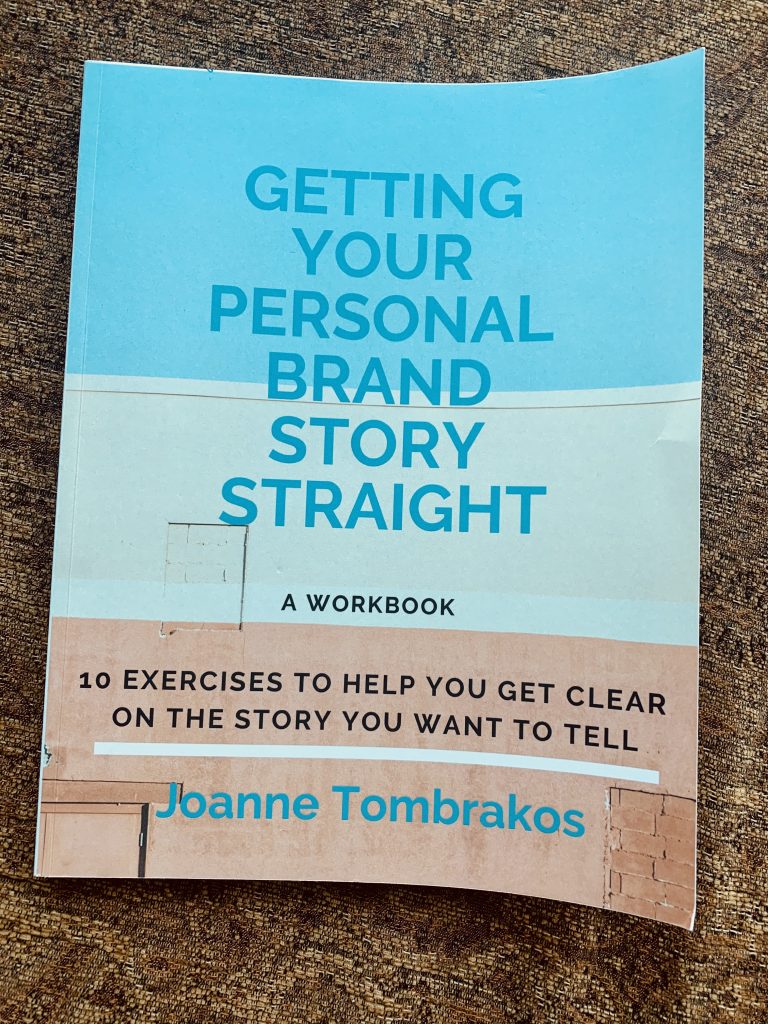 The other day I was on a call with Jenny Blake, founder of the Pivot Method. The subject was me. Like so many of us living out this Great Pause, I have found myself reflecting on what I'm doing and what I want to do on the other side of this. Jenny suggested that perhaps I needed to revisit my Getting Your Personal Brand Story Workbook and do the exercises myself.  In fact, she assigned it as homework.
Even though I could feel my resistance bubbling up inside of me as she spoke I told her it was a good idea and I would do it. I even got so far as pulling out the last clean copy I had in my apartment and moving it from the bookshelf to the ottoman in my living room, so I would be forced to look at it as I binged on Netflix, watched Governor Cuomo's daily press conferences or stared out the window wondering when I won't have to wipe myself down with Lysol after a trip to the grocery store.
But look at it was all I did. Until the other day.
I got a text from a friend who likes to send me Peggy Noonan's articles. Sometimes I agree with Peggy but mostly she gets on my nerves. In any case, I clicked on the link and tried to keep an open mind.
It was this quote by Jonathan Haidt, a social psychologist, and professor at NYU Stern that made me stop.
This is a time for us to reflect and choose a better story. Right now stories are being rewritten all around us, nationally, individually, and we all get a chance to do some of the rewriting.
Your personal brand is your story.
When I finished the article I picked up my workbook and looked at the cover. It says personal brand story but I know it is so much more than an exercise in branding. Your personal brand is your story. The branding part is about where you want that story to go next.
I'm not sure where that is for me right now so I thought it was time to listen to Jenny's advice and open the workbook up. I might have written something in there I need to hear myself.

This part of my story starts in August 2008 when I was "reorganized" out of my job at Time Warner. It was not the first time I had experienced being "let go" so the panic that often accompanies these situations did not consume me. I had learned first hand that my world would not end, but I also knew it would change. I just wasn't sure exactly how.
A shiver went down my spine.
Until now – until COVID-19 wreaked havoc through all of our lives, 2008 was my last defining moment in much the way there was my life before 9/11 and after and before my father died and after. In each case, my world did not end, but it did change as did I. And now here I am again. Here we all are.

I ate healthy, limited the alcohol intake, exercised a lot, finally made meditation and tapping a practice instead of a lark, surrounded myself with positive people and I wrote. I wrote a lot. I started a blog and from that blog came the unfolding of what would be the next chapter.
I laughed as I read my own advice. It was good advice – advice I struggle with every day of this Great Pause – especially the part about writing.  I am a firm believer that if you do not write it down, nothing becomes clear, nothing manifests. It was one of the reasons I created the workbook in the first place.
When the Universe gives you a hint three times, you need to pay attention.
I suppose one could say my conversation with Jenny and the Noonan article were only two hints. But I think the third was COVID-19 itself.
If not for COVID-19 there would be no Great Pause. There would be no period of reflection and prolonged quiet. I am not certain I would be questioning as much about my own life – personally and professionally as I am without this time out.
What I am certain of is that I need to do the homework Jenny assigned, as much as I resist it. I need to read my own words and do the exercises in the workbook  I wrote.
I have no idea what will come out of it –  if anything – but if you're curious follow me @joannetombrakos or subscribe to my newsletter for the recaps. And of course, if you want to rethink your own story during this time, you can get a copy of my workbook here.

In order to get where you want to go, in order to get clear on what we like to call our "personal brand," in order to present yourself in a way that is authentic to you – online and offline – you need to get your story straight from where you stand today so you can get on to tomorrow and your next pages.