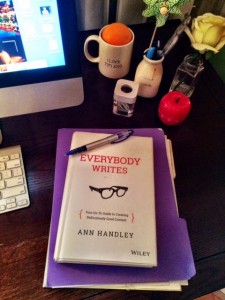 The truth is I never can't write. I don't want to write. I resist writing. I come up with a thousand and one other things I think are more important for me to finish than writing – even though the truth is for anyone like myself who calls themselves a writer first – before anything else – there is nothing more important than writing. It's the fuel that drives the engine for everything else.
Still – there are moments when I allow myself to play my game and say I can't write.
It happened the other week. In fact, if you follow this blog regularly you might have noticed the absence of new material. You might have even stopped following me because in the world of content marketing, not offering fresh content consistently is not a smart thing to do.
But I digress.

Which is pretty much why I wasn't getting much writing done.
But I was thinking about all the things I might write if only I could.
Still intent on avoiding the situation, rather than organize my closets I decided to organize my writing. I signed up for an online course designed to get me to once and for all really learn how to use Scrivener, a program I've owned for several years but can't say I've ever used to its full capabilities.

That helped to get the wheels turning – but I was still spending more time with the learning modules than my keyboard.
Then I did something I have not done in a while.

I read a book about writing – without a doubt one of the best books I've read on writing.

Ever.

And I've read a lot of books on writing.

Ironically, it's not just for writers like me who are writers before everything else. It's for everybody. Because – as it is so aptly titled, Everybody Writes – Your Go-To Guide to Creating Ridiculously Good Content.
It's smart, it's witty, it offers good, useful advice, a ton of great resources and it's easy to read. All the hallmarks for creating great content in a digital world. The author, Ann Handley who is also the Chief Content Officer at Marketing Profs, shows us how it's done by walking the walk.
It's also inspiring.

It helped me to jumpstart my writing again and remember a few of the things I seemed to have forgotten that had gotten me to that can't write place.
Everybody Writes has earned its official spot on my recommended reading list – not quite as coveted as The New York Times – but a spot nonetheless !