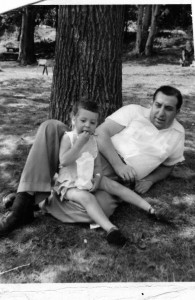 One of the many lessons I have learned this past year while chronicling my reinvention of life after Corporate America is that it is not just what I do for a living has that has changed. It's how I look at almost everything.
Take today. Father's Day. For year's I have pretty much ignored the day. It started in 1987. That was the first Father's Day after my dad died. I can still remember the feeling of sensory overload standing in the middle of a card store surrounded with too many reminders to get a card for dad. His absence in my physical life was still raw. The reality of it was too real. It wasn't a dream. He was gone now. There was no card to buy, no gift to accompany it. It was no longer a holiday in which I would participate. I ran out of the store in tears with a note to self for the future. No card stores in the month of June.
It's easy to ignore things when your life is so busy and every moment is accounted for by you or by someone or something else. So each year it became a bit easier. This is not to say I have not thought about my father over the years. A day does not go by that I don't miss him. But the reminders on Father's Day were too painful for too long to think about him on this particular day.
I did not know that Sunday in 1986 was going to be the last Father's Day I would spend with him. But then, we never really know when the last of something is we get to be with the ones we love. While my father had been recovering from a stroke that past October, he was getting better. There was no indication that warm June day that three months later a heart attack would end his life.
I remember driving home early that Sunday morning from the summer share house I had in Avalon, New Jersey, stopping before I hit the causeway bridge to pick up a container of She Crab soup and cooked shrimp as part of his present. I have a picture in my head of Dad and I sitting in the backyard on the old lawn chairs he had re webbed, dipping each shrimp we peeled into cocktail sauce, disposing of the shells into a brown paper bag, and looking out over the vegetable garden he called his, but my mother really tended to. He didn't say much, which was typical of that last year. His new dependence on all of the rest of us had taken his once jovial and contagious good spirit out of him. But it didn't matter. I was happy to be sitting with him. His stroke had been the first big reminder in my life of how quickly things change and how precious our time here really is.
My Dad was a pro at savoring. He never liked to be rushed. He got the importance of slowing down and taking a moment to just be. I didn't always get it when I was younger and convinced that constant movement was all that was important and just being a waste of time. But I do now.
So, in honor of Father's Day I am taking pause to reflect and remember with gratitude all the great moments he and I did share. The photo above is one of them.