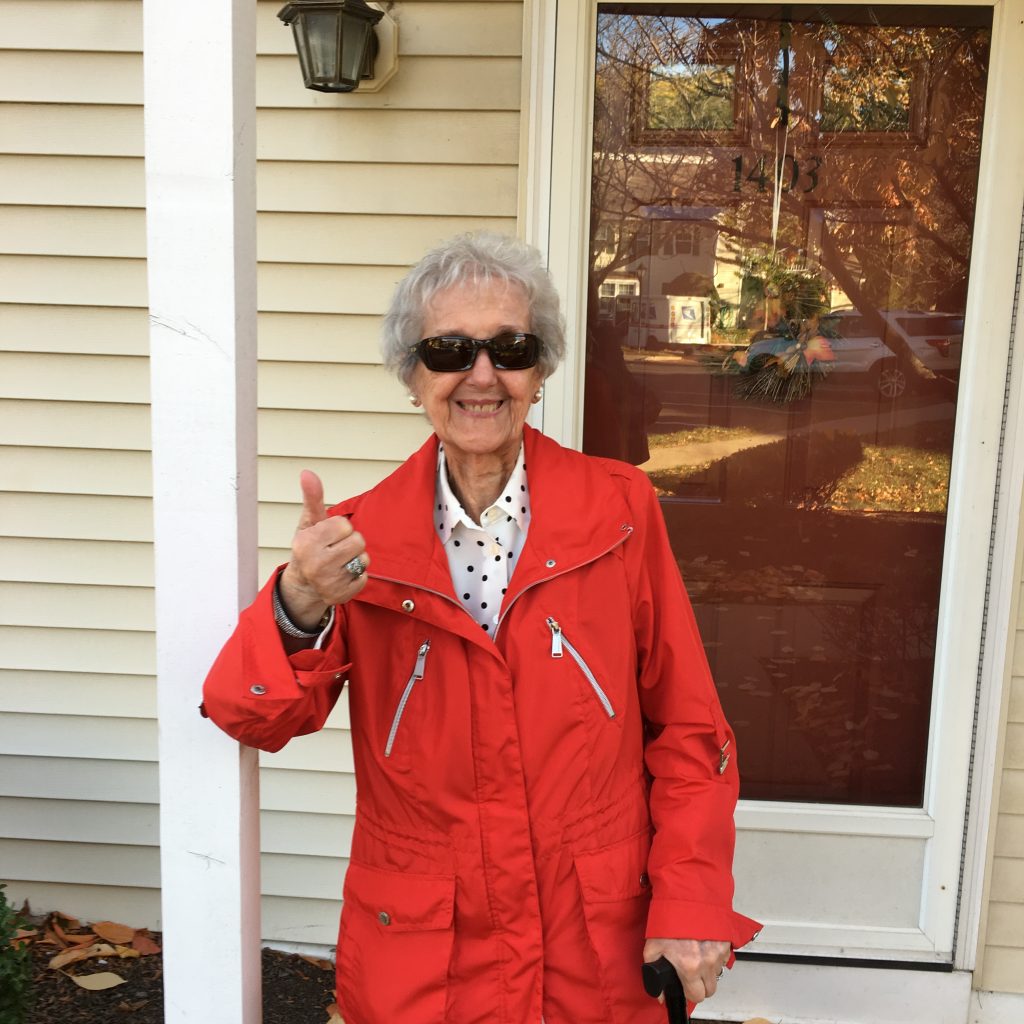 When I launched my podcast in August I had a goal of a fresh episode every Friday and a newsletter to accompany it on Sunday. I even recorded a few in advance so I wouldn't feel too much pressure on myself to get this thing rolling.
But as it has been known to – life gets in the way
On September 24 my brother texted me in the morning to tell me he was worried about Mom and was going to head down to check on her before he went to work. I didn't expect a phone call when he arrived. I expected a text. I didn't expect to hear the anguish in his voice as he told me he had found her collapsed on the living floor and had no idea how long she might have been there. I expected him to say she was okay. But he didn't. Instead he told me to get to Holy Redeemer Hospital fast. Everything I expected was not what happened.
In the week that followed everything else was on hold
Mom was admitted to the ICU later that day. We were told she was gravely ill. The woman who bordered on hypochrondia, whose doctor once told her he saw her more than he saw his wife and who kept a notepad with the days and times she took medications had been hiding her pain from us in order to protect her independence so we would not force her to see a doctor. Her wish had always been that she would live alone until the end and die in her own bed and not "some nursing home with a lot of old people."
My brother and I both got a taste of what it must have been like for the familiies of Covid patients, not being able to see their loved ones who were hospitalized as we alternated days to see her to keep within Covid protocol – that was until we made the difficult decision of moving her to hospice where the restrictions are eased.
The tough warrior woman that she was she took her time leaving us
On October 2 as we were approaching the end of visiting hours after having been told for days that it could be hours and then minutes, her day nurse was leaving and told us it was okay to stay, that they were slow and no one would say anything. She said she knew she would want to stay if it was her mother. As if to be sure we did, she brought us in some tomato pie that someone had brought to the floor. My brother is convinced on some level she knew something we did not.
After I had a slice I needed a break. The physical and emotional exhaustion was wearing on me. I went to the prayer room and I meditated through my tears. I asked the angels of the white light to guide and protect me and my brother. I also asked them to help Mom make her transition. When I was done I felt a lightness I had not felt in a week.
When I got back to the room it was 7:55PM. They say the hearing is the last thing to go, and without planning to do so, I told Mom that Peter and I would stay until 8:15 and if she wanted to go before then that was okay and if she wanted to wait until we left that was also okay. We would be fine no matter what. I kissed her forehead and I saw her left eye opened a bit.
I turned to get a tissue and my brother said something changed. He said he thought that was it, that she had taken her last breath. It was 8:11PM. I ran to get the nurse and he was right. Mom had heard me. She wanted us both to be there as she made her transition and left before we did – just two weeks shy of her 98th birthday.
In the week since, those who knew her have remarked on her beauty both within and without and her positive outlook on life.
A "breath of fresh air"
She was a kind woman with a ready smile. She was strong, outspoken, stylish and often quite the character. She was a legendary baker, a wonderful cook, had a real talent for dressmaking, loved old movies, Frank Sinatra and oatmeal cookies without raisins. She was my best friend, my worst critic and my biggest champion. Most importantly she had a generous heart and as someone once said she was a real "breath of fresh air."
She had a tough childhood growing up the fourth of seven to Greek immigrants during the depression, almost dying herself when she was 9 from a burst appendix, losing her own mother to breast cancer when she was just 17 and WWll was about to break out, caring for her youngest brothers who were just seven and eight at the time and then losing my Dad, the love of her life when she was just 63. Yet through it all, she was a fighter. She powered through with grace and a ready smile and always stayed optimistic.
Life gets in the way no matter what else we planned
And when something like this happens none of those plans really seem to matter. But as my mother said to me on the day of my father's funeral thirty-four years ago we go on. We sat on the bed in my old bedroom with its yellow shag carpeting and she held my hand as she hid her own pain and told me I would have a good life. I didn't believe her then. It turns out she was right.
I have heard many times in the past week that my brother and I are her legacies. And I know that while right now my heart is broken and going on requires enormous effort, living the legacy of Nancy Lekas Tombrakos means living my life – as Mom would say with her little fist clenched high to prove her point – "really live it."
May she rest in peace and as the Greeks say – may her memory be eternal.