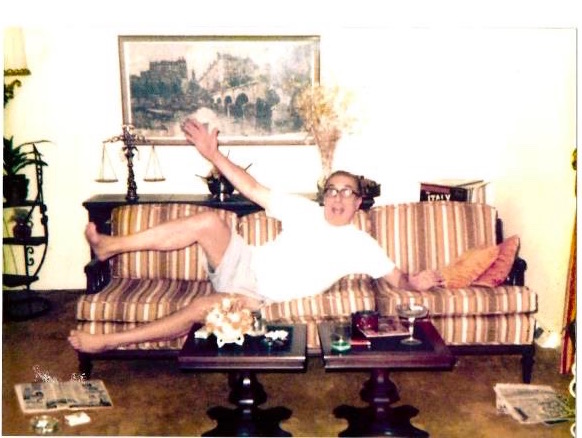 Thirty years ago I drove home from my weekend share house in Avalon, New Jersey to spend Father's Day with my Dad.
I stopped by Avalon Seafood and bought an oversized container of she crab soup and a pound and half of cooked shrimp. Dad loved his food, especially food that he could really get his hands around. I was sure this was a perfect way to celebrate the day. I drove over the causeway bridge and onto the Garden State Parkway hopeful that the surprise of peeling shrimp and dipping them into homemade cocktail sauce would make him smile.
My father had one of the best smiles ever.
He was known for his ability to make everyone laugh over the silliest things, but hadn't done much of any of that since the previous October when he had a stroke that left him paralyzed from the waist down. As he healed and was able to walk with the help of a walker I kept hoping that jovial spirit would return. So I, forever the fixer, would dream up whatever I could to help it along.
That day I thought fresh jumbo shrimp and she crab soup would do the trick.
I was wrong. He was appreciative enough. But even as I watched him, meticulously peeling each shrimp and tossing the shells onto the newspaper my mother made us cover the picnic table with, I saw that faraway look in his eyes. The one that had become commonplace since the stroke.
It was a look that reminded me that since that day seven months ago when my brother drove him to the emergency room, all of our lives had changed forever and not the way we wanted it to. I wanted to erase that look. I wanted my Dad back.
I wonder now if he knew what I didn't know.
What I feared most. But what I had convinced myself now that he was healing would not happen for many more years.
I wonder if he knew that this was the last Father's Day I would spend with him.
That these moments of just being, without a lot of words or fanfare, sitting in the backyard on a warm June afternoon, the smell of fresh cut grass in the air, sipping a cold beer, these precious moments we all too often forget to breathe into and relish, were numbered.
I savor that memory now, but I didn't then.
I was too busy trying to find that part of his spirit that the stroke had robbed him of and I so desperately wanted back, filling the air with silly stories, hopeful to get him engaged and hear one of his great laughs. I wanted him to tell me, as he had since I was a little girl, that it was all going to be okay. That I shouldn't worry. That this was behind us. People got sick. But they also got well.
But he didn't. Three months later he died.
Every year when Father's Day rolls around I think back to that last one and I time travel to the analog world of 1986. I sometimes torture myself with questions I never got to ask him. Answers I wish I had now. And when I think of the quiet that descended on him that last year of his life, I hope on that particular Father's Day he saw what it took me years to realize and to own and it made him proud.
I was my father's daughter.
He was the one who taught me how to tell a story, to stay calm in a crisis and to use humor to get through the tough stuff. I inherited his never ending desire to make people smile and look for ways to make the ordinary special. What I tried to do for him that day was all the proof either of us needed.
His physical absence can still make my heart hurt when I let it. Then I do what he would encourage me to. I think of something silly he would say or do, I hear his laugh in a distant memory and I smile. And I see him smiling back.